Shoulder Heating and Massaging Brace 🩺 50% OFF NOW! 🩺
Regular price
$71.96 USD
Sale price
$35.98 USD
Unit price
per
Don't leave shoulder pain continue, it will only get worse! This massage heated shoulder warp will help you relieve most shoulder pain problems.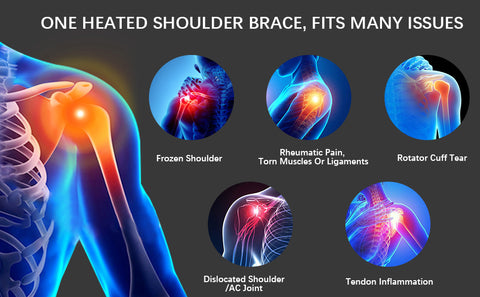 2 IN1 VIBRATION MASSAGE & HEAT THERAPY
This heat shoulder brace provides both heat and massage therapy which promote blood circulation relax the muscle and accelerate recovery from injuries; The 2 mode can work alone or together; 3 Heat & 3 Vibrating Settings can meet your need for shoulder pain relief for frozen shoulder, torn rotator cuff dislocated AC joint, sprain, bursitis, tendonitis, paralysis, strain, stiff, soreness




 Compression Therapy - This pressure shoulder pad brace support provides heat compression and helps heat better applied to the shoulder pain area, achieve prompt pain relief and stabilize your aching shoulder. The shoulder wrap is added with a mesh bag for cold therapy. People suffering from acute sprain and another soft tissue injury should apply cold therapy first, then use a hot pad after 48 hours.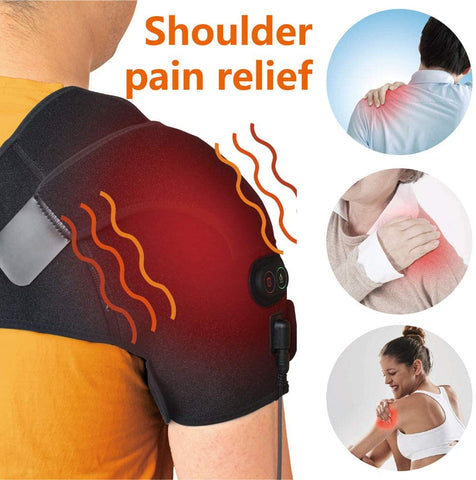 📣📣📣30 seconds to feel the heat, embed large heating pad covers most Shoulder pain area

📣📣📣Safe low voltage, NO harm to human being compared with 110V heating pads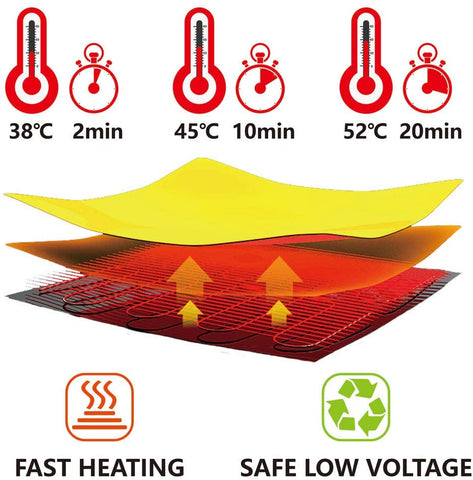 📣📣📣 With heating effect to stimulate the blood flow and improve muscle recovery




Universal Design and Adjustable - Our shoulder support is suitable for men and women and adjustable for Right or Left arm/shoulder (Arm size: 10 to 16 inches, Chest size: 31 to 45 inches). A fastening strap allows you to customize the fit of your brace to your exact requirements. The adjustable sleeve allows you to apply pressure as needed to aid in pain relief.


Easy Button Control & 3 Heat-settings - Easy to operate, Long press the button for 3-5 seconds to turn it on / off. The power button with LED indicator can be operated to red-highest Tem (60℃/140℉ to 70℃/158℉), blue-medium (50℃/122℉ to 60℃/140℉), white-lowest temp (40℃/104℉ to 50℃/122℉) setting. Short press the button for once can change to another heat setting.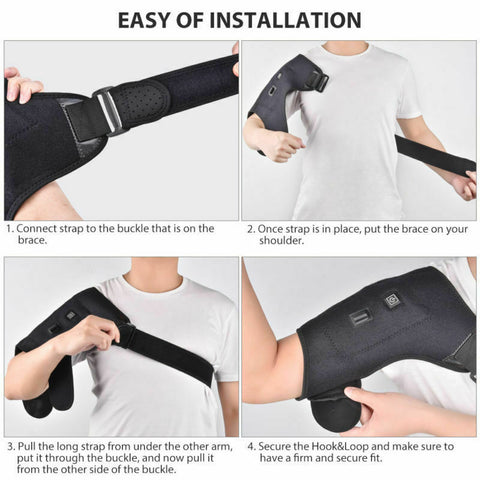 📣📣📣What's In the Package:
- 1 x heated shoulder brace
- 1 x 2m AC cable charger
- 1 x USB cable charger
- 1 x 30cm extended stick strap 
- 1 x quick user guide
Share