Snap-On These Magic Teeth and Say Cheese!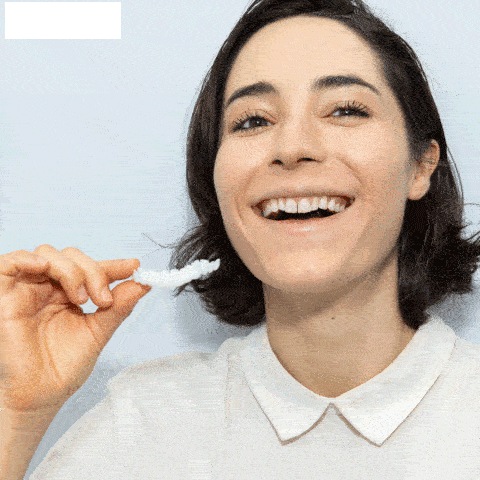 Would you like to have a beautiful, captivating smile? Of course, you do, everybody wants that! Ugly teeth can cause an extreme decrease in self-confidence and self-esteem because you can't smile in public like everyone else and feel bad about yourself, but implants or braces cost a ton of money.

But don't worry! Premium Snap-On Dentures Kit can easily solve your problems! It's a new product invented by dentists to boost your confidence and improve your appearance immediately! It's very easy to wear and is indistinguishable from natural teeth.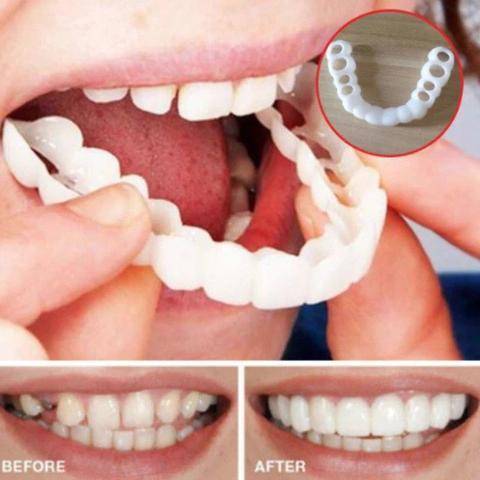 Perfect Smile Veneers are comfortable, flexible and fit over your teeth similar to press on veneers. The perfect adult makeover that is simple to fit within a few short minutes before transforming your teeth into the perfect smile. These handmade teeth are easy to fit after carefully submerging them in hot water. The step by step instructions are printed on the back of the package. Ideal for everyday use, at your work, college, reunions, weddings and any type of family gathering. Includes compact carrying case.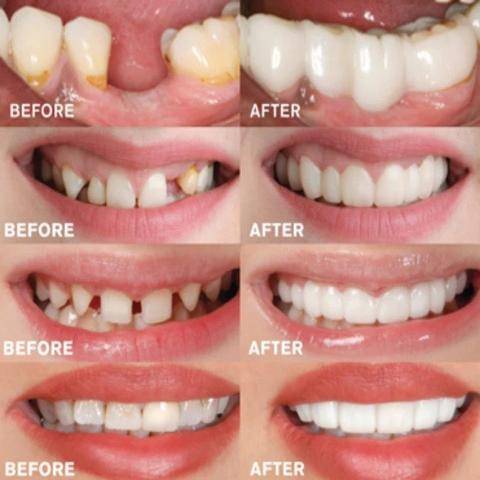 ✓ PERFECT AND CONFIDENT SMILE
Specially designed cosmetic teeth veneer top & bottom units work for deformity teeth, making your stained or missing teeth covered with nice looking and smile confidently.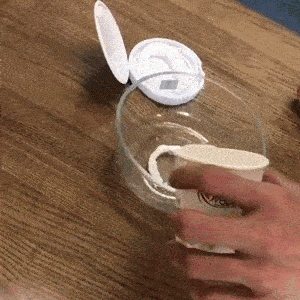 The size can be adjustable after putting into hot (boiled) water before use , which allows it fits most people, quite easy for use to make you smile instantly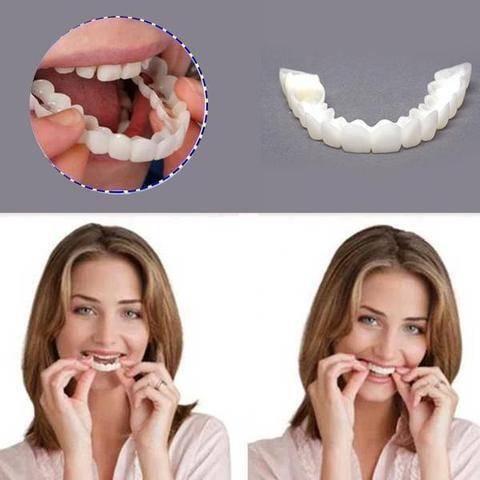 It's a great alternative to expensive braces. Beautiful denture teeth veneer in natural tooth color makes you more confidently smile while talking together with your loved ones/friends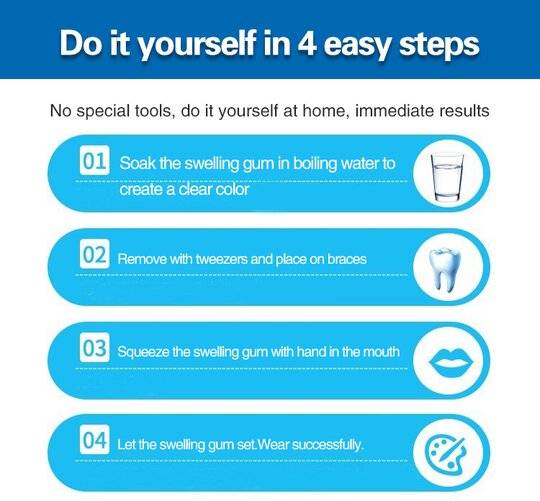 1. Place teeth into a cup of hot (almost boiling) water for 1 minute. This will make them flexible and ready to custom fit.
2. Using a mirror, firmly position the Instant Perfect Smile Teeth over your existing teeth. Press them firmly against your teeth and gently pat the impression material with your thumbs behind your real teeth.
3. Gently ease the teeth out of your mouth after 30 seconds and set them in a glass of cold water to cool. The impression material turns white when it is hardened.

"I can perfectly smile with confidence! Thanks to this fake dentures now I can have a good smile!"
DIANNE TORRES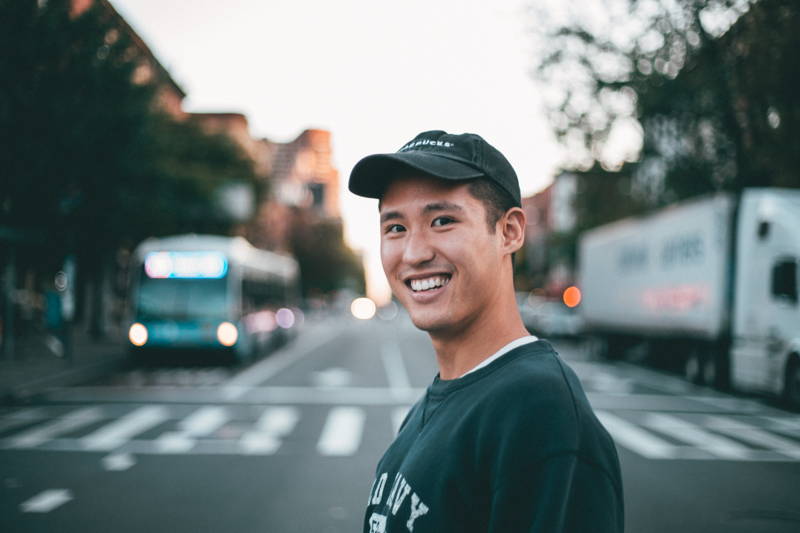 "For us that doesn't blessed with good teeth, this is a life saver! It gives confidence to smile widely like me."
MARCUS ANTHONY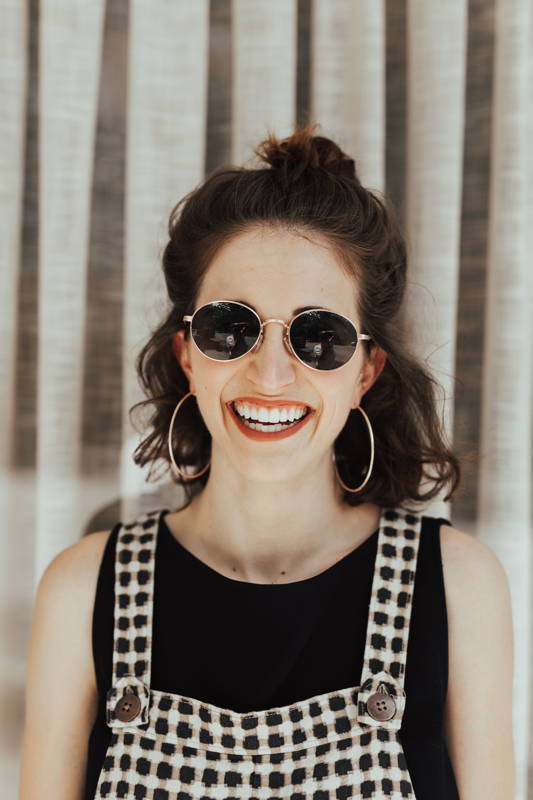 "Easy to use. Most comfortable fake teeth I've found so far. Just need to watch some videos and poof! Perfect smile!"
AYESHA CRUZ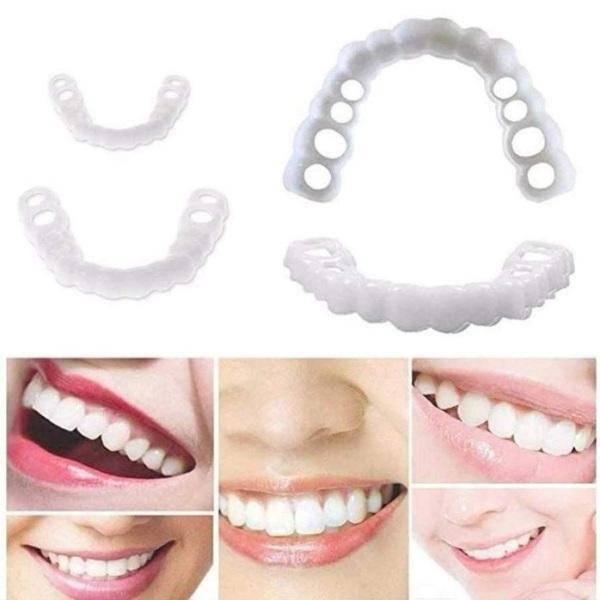 Material: Silicone
Color: White
Size: One size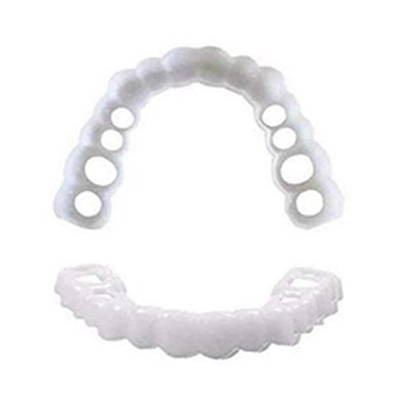 1 x Perfect Smile Denture Veneer Teeth
ATTENTION: Place your order Today, , and your package will be prepared and shipped ASAP!
We have many orders and our Stock is Limited!
Do you ship internationally?
Yes, we ship worldwide. Free Shipping on orders over $50USD for a limited time!
How do I track my package?
You can check the status of your order at any time by going to the following link: Order Status. You can also reach out to our customer support desk at support@newtreeliving.com to ask questions anytime.
How long does it take for an order to arrive?
Once shipped, your order will arrive within 1 to 2 weeks. You'll receive an email confirmation once your order has been shipped. Feel free to email us to check your order status. We're happy to help.