Magic Paint Sprayer Gun 🏘🖌SAVE UP TO 60% NOW!💥
Regular price
$55.00 USD
Sale price
$29.99 USD
Unit price
per
Spray A Coat Of Paint Flawlessly, Even In Crevices!
If you're looking for
a way to breathe life into your aging wall, furniture, or motor vehicle
but
do not have the patience nor the skill to hold a paintbrush or the deep pockets to go to automobile repair shops,
then
your best choice is the Magic Paint Sprayer Gun!
It adopts an
advanced spray technology
that
delivers superior coverage.
Each
coat covers up to 3 coatings
of a normal paintbrush,
reach tight corners, and angles easily.
The
unique 3-way direct dial spray head ensured detailed coverage on every hidden angle.
Perfect for
 flat walls or tricky textured surfaces
like stucco, brick, paneling, and crown molding.
This is
designed to provide equal atomization and particle sizes for all kinds of surface painting.
 It creates a 
fine, even mist
that is
easily applied to a variety of surfaces.
Its lightweight,
ergonomic design and easy trigger pivot reduce operating fatigue.
 W
hile a specially shaped air cap
prevents splashing, effectively saving you on wasted paint and providing an optimal coating each and every time!
FEATURES:

PREMIUM MATERIALS - Made with Zinc Alloy + Copper + Stainless Steel + PVC plating on the surface for lightweight carrying and maximum durability.
EFFECTIVE TOOL - Comes complete with a 125 ML gravity feed cup, allowing users to meet different needs of effective paint spraying. The feed cup is transparent, allowing you to clearly see the liquid pot capacity during any application.
PRECISE COATING - Stainless steel fluid needle and nozzle are corrosion resistant with a multi-purpose precision airbrush with a 1.0mm nozzle.

3 BUILT-IN CONTROL KNOBS -

 

Fluid control with 3 built-in control knobs regulate the amount of paint sprayed for the perfect paint job every time. Pattern control adjusts the fan pattern size, with an air adjustment valve that

provides airflow adjustments.

MANY APPLICATIONS - Can be used for painting furniture surfaces, maintenance, and repair, wall painting, car painting, artistic drawings, beauty nail painting, inkjet tattoos, arts & crafts, etc.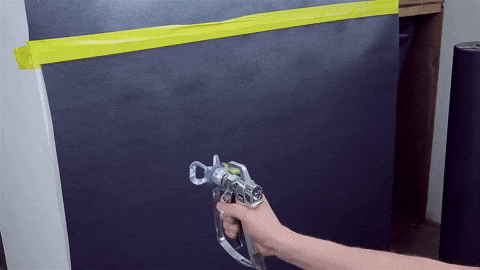 SPECIFICATIONS:
Paint Spray Tool Material: Aluminum Alloy
Nozzle Material:

 

Aluminum, Iron, Plastic
Maximum Operating Pressure: 3600 psi
Size: 23 x 17 x 5 cm
Weight: 600 g
Share